Get To PTO Faster
With Enerflo + EagleView
Get install-ready designs from day one with EagleView TrueDesign™ for pre and post sale -- all through Enerflo
What do you get when you cross premium solar/PV design solutions with an industry-leading sales and install platform? You get a whole new way to sell and install solar that streamlines your front and back end processes, reducing the time, friction and soft costs that keep you from being able to effectively scale your business.
Sign Up with Enerflo + EagleView before April 30th and we'll waive the one-time Integration Fee, a $2,500 value.
See It In Action! Watch the Webinar On-Demand
See how easy it is to request, receive and share EagleView PV system designs through Enerflo. Increase your customer satisfaction with install-ready designs and reduced time to install.
Originally Recorded on:
Wednesday, January 25th
The ≥98% accuracy of EagleView TrueDesign reduces changes orders and cancellations by providing install-ready PV designs at the proposal stage. Installers and EPCs can unlock final, install-ready PV designs at the solar contract, resulting in lower soft costs and better profit margins at every stage of the process.
TrueDesign for Pre-Sale (Proposals)
TrueDesign for Post-Sale (Plan Set)
Get install-ready designs in 2-5 Hours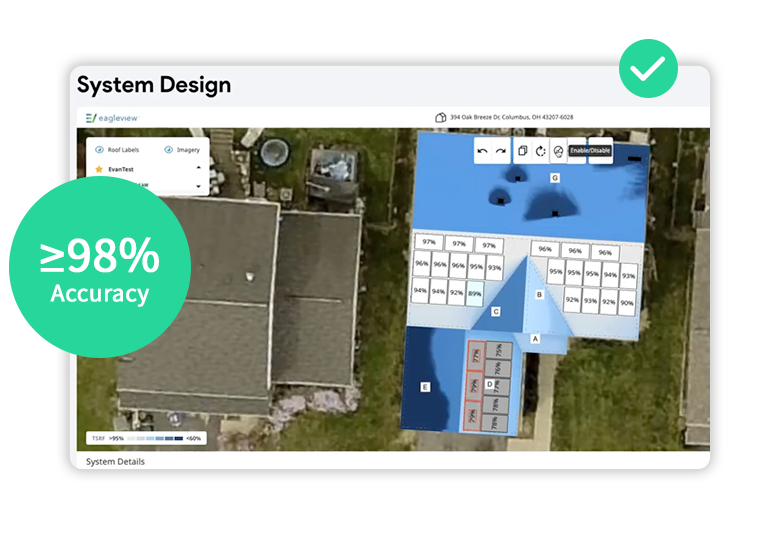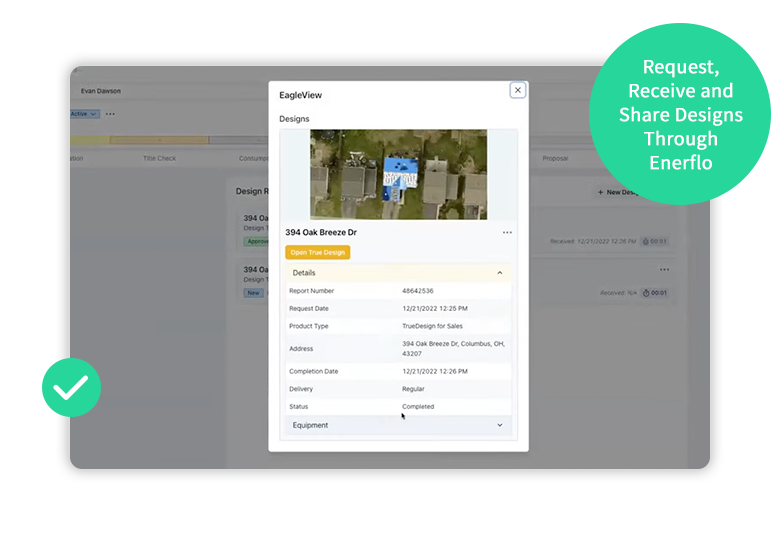 The Enerflo integration with EagleView TrueDesign gives Enerflo users an additional, premium option for solar PV system design that's quick and easy to use with Enerflo Optimus Proposals. Enerflo connects all the data and features you need on one platform, with one login, creating one connected flow from lead to PTO.
Request TrueView system designs through Enerflo

Use Optimus Proposals to review system designs with your customers and make changes in real time

Eliminate the site visit and get to install faster

With so many solutions out there, how do you choose? Enerflo is the first solar sales and install platform to integrate with EagleView TrueDesign for both pre and post sales, giving our partners a first-mover advantage.
Enerflo enables one connected flow from lead to PTO.
EagleView provides unsurpassed accuracy for solar.
Get on the Fast Track to Increased Productivity
The EagleView TrueDesign integration is only available on the Enerflo V2 Platform. Getting started is easy!
EXISTING PARTNERS
Currently an Enerflo Partner?
It's your lucky day. If you're currently on the Enerflo V1 Platform, opting in for the EagleView integration will fast track your migration to the Enerflo V2 platform! Complete the form below to get in queue.
NEW PARTNERS
Not Yet an Enerflo Partner?
No problem! New partners that sign up for Enerflo with the EagleView integration will be prioritized for onboarding on the Enerflo V2 Platform. Complete the form below to get in queue.
Let us know you're interested
Please complete the form below to get started. A Platform Consultant will reach out within one business day.